Photos and information on this site belong to Providence Dobermans. Permission is required to post the url, photos or any other information contained on this site!
MOLLY HAS BEEN RETIRED!!!!
Int'l/Nat'l/CACH/ UKC CH Molly Girl Hagen, CGC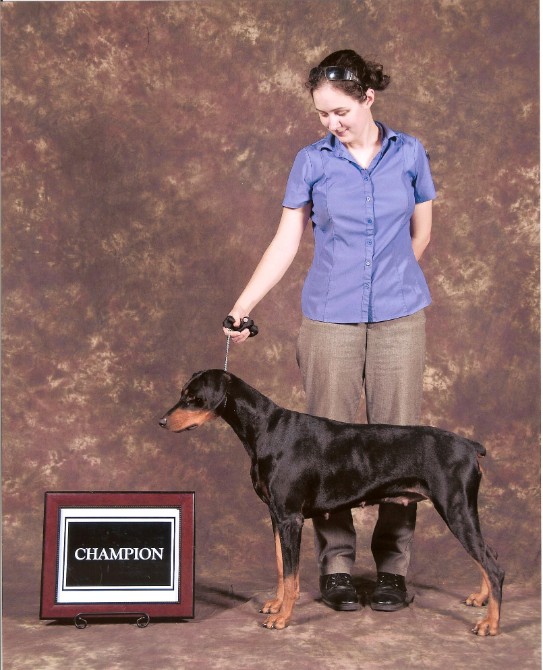 Molly earning her UKC Championship, pictured at 4.5 years old. Earned in just 2 weekends out
International/National/Ehren/UKC Champion Molly Girl Hagen CGC
Date of Birth: October 1, 2006
Date Retired: 1/01/2012
Coat: Black and Rust
Color: Black #3 BbDD (Only Black and Rust Offspring)
Weight: 65 lbs (6/20/2011)
Testing:
vWD: Carrier, per VetGen
Cardio: Normal, October 2009
Eyes: Normal per CERF exam, May 2009
Liver: Normal, October 2008
Hips: Good, November 2009 per OFA
Thyroid: Normal, October 2009 per OFA
Full dentetion
Molly has been placed in her forever home.
Molly is our foundation bitch. She currently has three litters on the ground, one which was whelped on February 10, 2009, another was whelped February 21, 2010, and the last one was whelped August 18, 2011.
Molly has been shown at the International All-Breed Canine Association of American, Inc. (IABCA), and receieved nine V-1's, and a Best of Breed! Molly also placed Winner's Bitch in multiple shows, as well as Best of Opposite.
Molly was placed Best of Opposite to an American Champion, Top 20.
Molly just received her UKC Championship!!! With 2 Best of Breeds and a Best of Winners! Her daughter Prada beat her for Best of Breed! Keepin' it all in the family!!!
Please see her pedigree and health reports at http://dobequest.org/pedigree.php?=1&DOGID=41578
Pedigree is also at the bottom of the page!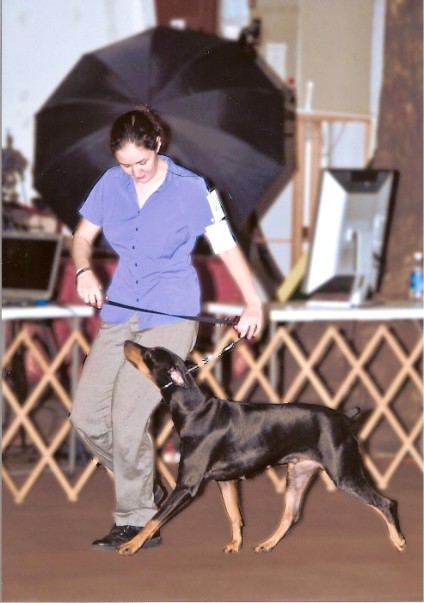 Molly's dam: Token's Pendant of My Heart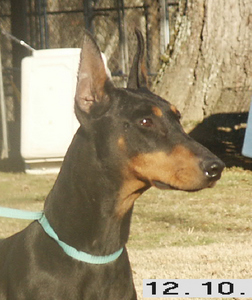 Pendant is pictured above and upper right at 3 yrs old, and pictured to the right at 8 years old. See more about her at www.tokendobe.com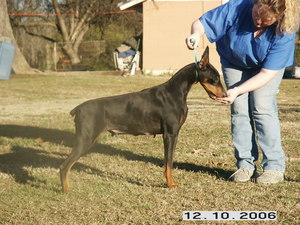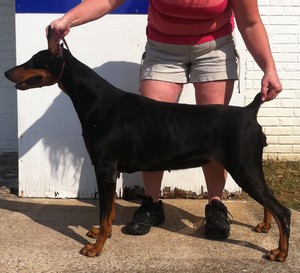 Molly's sire: Springston's Hobie